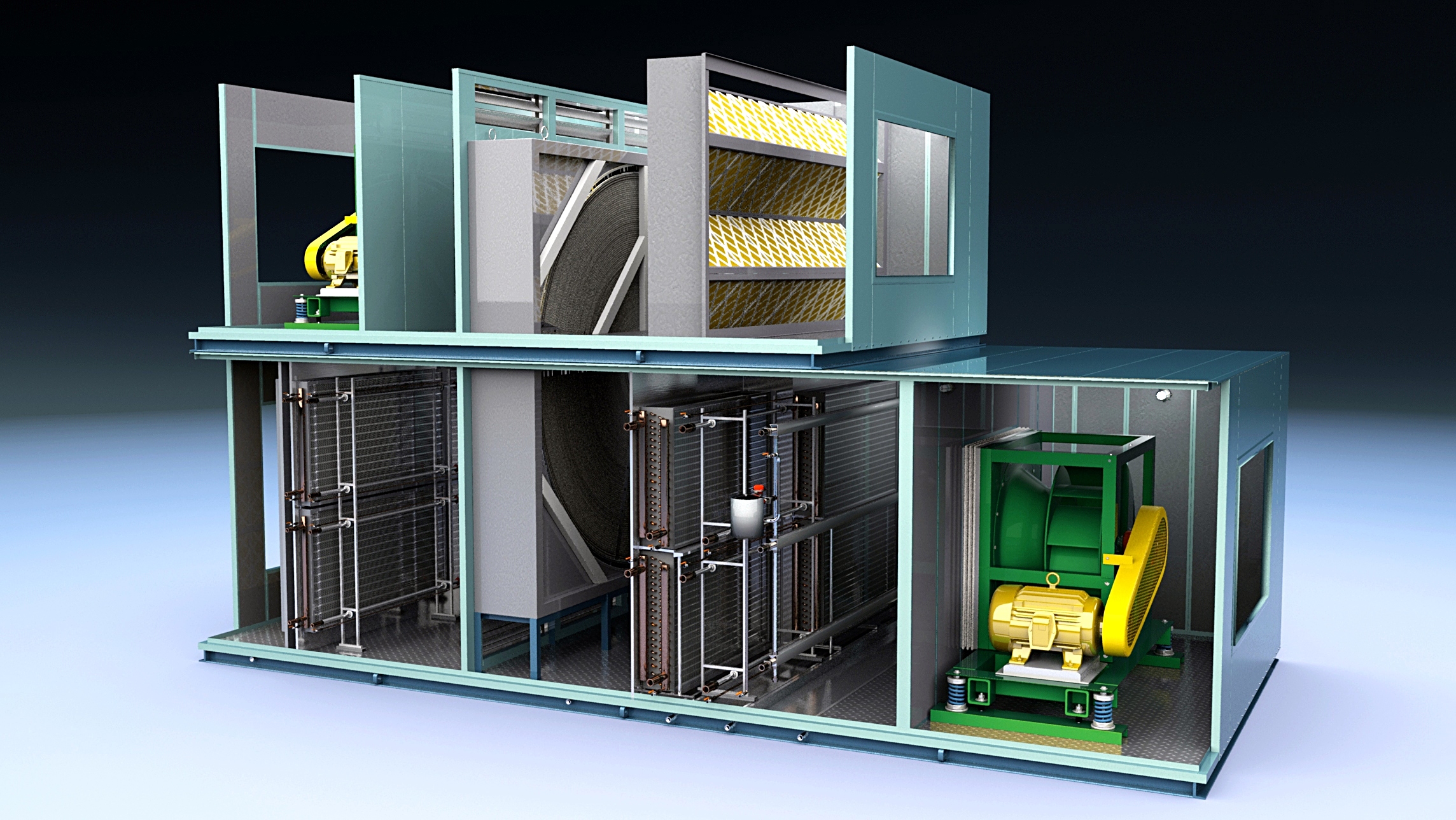 16 York Toronto
Industry: Office Tower
Application: Office building
Highlights:
Floor by floor units provided in the core of each floor of the tower
Floor by floor compartment down flow air handling units
Supply and return silencers on compartment units
Integral floor stands to mate with underfloor distribution system
High density insulation and perforated liners for maximum sound absorption
Heavy gauge steel casing panels for minimum sound transmission
Cooling coil bypass damper for humidity control
Chilled water cooling coils with stainless steel racks
Stainless steel IAQ drain pans
12 bladed, welded, high efficiency, direct drive aluminum airfoil fans
Internally spring isolated fans with seismic restraints
Aluminum airfoil dampers
Internal lighting
Windows in fan sections
Outside air heat recovery units
Enthalpy wheel heat recovery with SGA Hi Pannex media for maximum sensible and latent recovery and minimum cross-contamination
Aluminum airfoil bypass dampers on heat wheels to minimize air pressure drop when heat recovery is not needed.
Heavy duty welded structural heat wheel cassette with long life bearings
Angled exhaust filters to minimize unit height
Pre heat coil to allow maximum heat recover from the heat wheel during extreme cold weather
Stainless steel cooling coil racks
Staggered coil racks to allow for same side pull and connection but minimize space required for coil pull
Factory installed coil connection extensions for internal coil
Short absorption humidifier manifolds
Continuously welded aluminum checker plate floors
Internally spring isolated fans with seismic restraints
HAAKON

Haakon Industries is a world leader in Custom Designed and Manufactured HVAC equipment. Our experienced Engineering staff strives to provide Excellent Quality and Service to ensure our client's needs are met and exceeded.
ENGINEERING
All units are designed and engineered from our head office in Richmond, BC allowing for focused engineering solutions and consistent quality.
MANUFACTURING
Manufacturing is supported by three factories; Richmond, BC, Cheney, WA, and Kingston, ON. Utilizing a wide range of materials and diverse suppliers, each component is custom made for the specific unit; from access doors to fanbases.
Each factory leverages state of the art equipment to ensure the highest level of quality and each unit undergoes an extensive quality control unique to each and every unit.
INDUSTRIES + APPLICATIONS
We create a wide variety of air handling units for applications as different as night and day. Some of our most common design challenges are meeting the dimensional requirements, serviceability needs, and unit efficiency.
Haakon Industries
11851 Dyke Road,
Richmond, BC, Canada
V7A 4X8
Phone: 604-273-0161
Fax: 604-273-8397