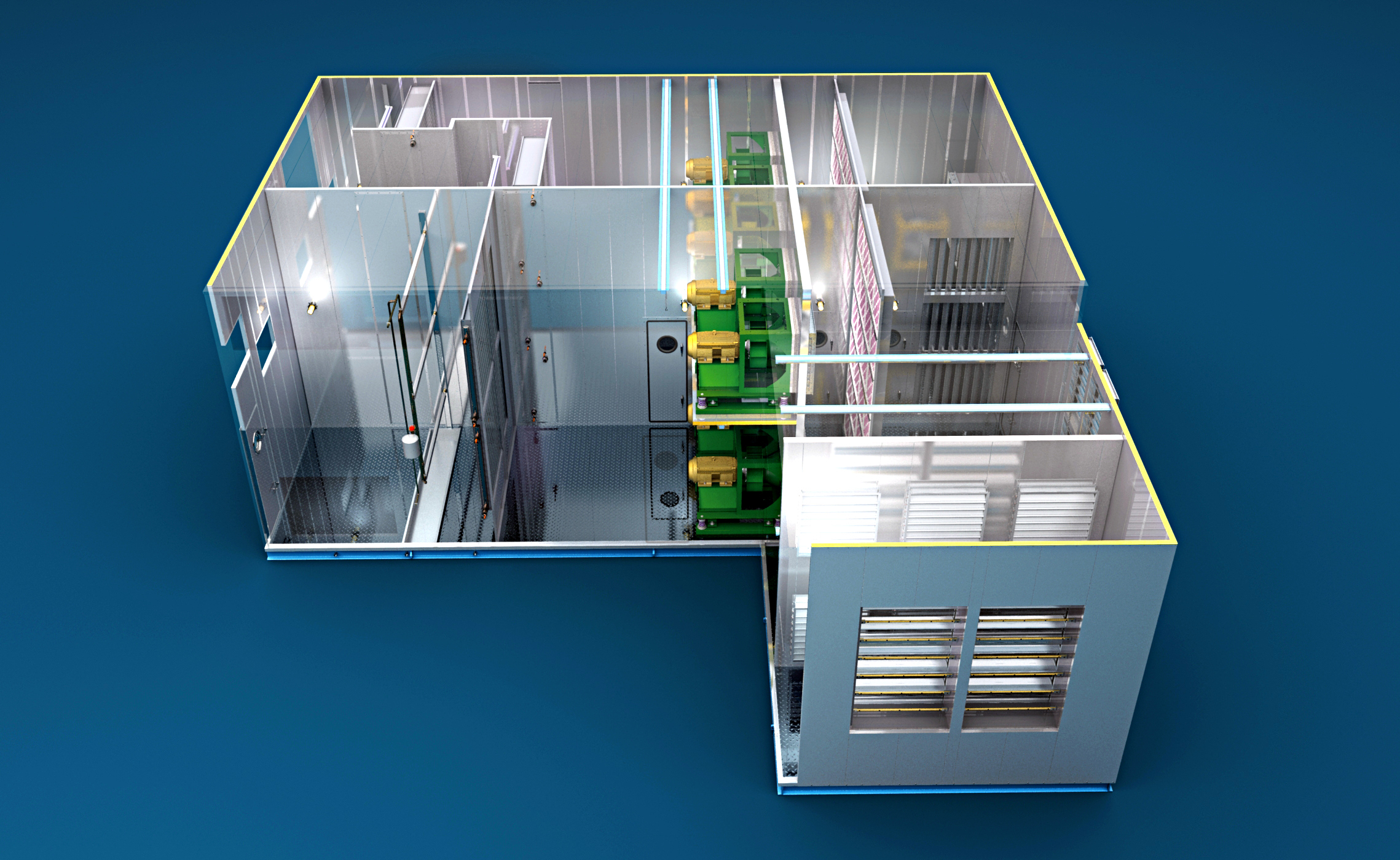 UNCC Atkins
Industry: University Library
Application: Dual Duct Heating and Cooling
Highlights:
55000CFM heating and cooling air handling units shipped as site-reassembled kits for limited access retrofit.
Units pre-assembled in the factory and then shipped in pieces specifically designed to fit the available access and space on the job site.
Allowance for building columns passing through unit
Feeds dual duct system with separate cold deck and hot deck
Staggered and offset cooling coils to fit space and maintain velocity
Humidification section
Variable speed high efficiency airfoil fans with aluminum fan wheels
I beams for motor removal
Chilled water cooling coils with stainless steel racks
Stainless steel IAQ drain pans
UV lights on the cooling coils to kill any possible mold or bacteria on the coil surfaces
Hot water heating coils
Aluminum airfoil dampers
Anemometer style airflow measuring station on the minimum outside air damper
Fan piezometers for airflow measurement
Internal lighting
Windows in access doors
Continuously welded aluminum checker plate floors
HAAKON

Haakon Industries is a world leader in Custom Designed and Manufactured HVAC equipment. Our experienced Engineering staff strives to provide Excellent Quality and Service to ensure our client's needs are met and exceeded.
ENGINEERING
All units are designed and engineered from our head office in Richmond, BC allowing for focused engineering solutions and consistent quality.
MANUFACTURING
Manufacturing is supported by three factories; Richmond, BC, Cheney, WA, and Kingston, ON. Utilizing a wide range of materials and diverse suppliers, each component is custom made for the specific unit; from access doors to fanbases.
Each factory leverages state of the art equipment to ensure the highest level of quality and each unit undergoes an extensive quality control unique to each and every unit.
INDUSTRIES + APPLICATIONS
We create a wide variety of air handling units for applications as different as night and day. Some of our most common design challenges are meeting the dimensional requirements, serviceability needs, and unit efficiency.
Haakon Industries
11851 Dyke Road,
Richmond, BC, Canada
V7A 4X8
Phone: 604-273-0161
Fax: 604-273-8397